1.Widely held about male's and female's abilities, personality traits, and social behavior is known as ?
A.Gender stereotypes
B.Gender differences
C.Gender similarities
D.None of these
2. Declaration of the rights of women and female Citizen  was announced in ?
A.1790
B.1791
C.1792
D.1793
3. Second wave feminists were active after ?
A.1860
B.1890
C.1920
D.1960
4. Third wave movement emerged in ?
A.1800's
B.1890's
C.1900's
D.1990's
5. Supporters and leaders of the suffrage movement are known as ?
A.Universal suffrage
B.Equal suffrage
C.Suffragettes
D.Suffragists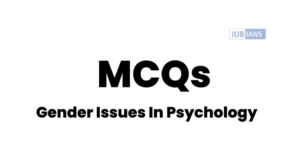 6. In women were allowed suffrage ?
A.1820
B.1830
C.1835
D.1838
7. President de Gaulle reinstated the right in ?
A.1940
B.1941
C.1943
D.1944
8. Psychoanalytical psychology was founded by ?
A.Crawford
B.Marecek
C.Sigmund Freud
D.Schultz
9. Psychoanalytical Feminism Roots are in the work of ?
A.Crawford
B.Freud
C.Weiten
D.Hughes
10. Gender related research focused on ?
A.Psychological aspect of gender's role
B.Aspects of gender relations
C.Aspects of gender differences
D.All of these
11. Researcher's    leads to double standards ?
A.Personal attitudes
B.Thinking
C.Prejudices
D.All of these
12. Data or information sources in the surveys are ?
A.Questionnaires
B.Interviews
C.Telephonic
D.All of these
13. Essentials for the surveys are ?
A.Trained, skillful interviewers
B.Careful and appropriate wording
C.Both a and b
D.None of these
14. Type/s of  observation ?
A.Observation with intervention
B.Observations without intervention
C.Both a and b
D.None of these
15. Experimental  employs experimental method for finding evidence ?
A.Research
B.Design
C.Method
D.All of these
16. The impact of independent variable is investigated in the ?
A.Observation
B.Hypothesis
C.Experiment
D.Theory
Related Posts :
Read More >> MCQs On Psychology